Are my card payments secure?
We completely understand wanting to keep your credit/debit card safe online and have set up our payment system to be as secure as possible.
We use Stripe as our payment processor. Stripe is an industry leader in payment processing. It is a PCI Service Provider Level 1 (the highest grade of payment processing security), handles billions in transactions each year and is trusted by millions of businesses.
When a purchase is made, credit card information is encrypted, routed and processed only through Stripe's state of the art data-centers.
We never have access to or store your full credit card information on our servers.
We receive a confirmation of the payment from Stripe and the email used for the purchase, which in turn we use to generate and send over a license key.
Stripe has stringent built-in safety measures that vendors have to go through, which include (but are not limited too) verification of identity using a passport and ensuring that checkout pages must use HTTPS (instead of HTTP).
Can I pay using PayPal?
If paying by credit/debit card is not an option, we can accommodate payment via PayPal. Please send our support an email.
Does Noise Blocker work on OSX, Linux or older version of Windows?
Development is currently focused on Windows 10 support. Some users have reported that the application works for Windows 8.1 however this is not officially supported.

We are gauging interest if it is worth porting the application to other operating systems. If you would like to register your interest, please send us an email.
Does Noise Blocker cause any audio delay/latency?
The virtual audio routing adds between 100 to 250 milliseconds of latency. The exact amount varies from system to system.
After installing Noise Blocker, I can hear myself. How do I fix this?
Under the Settings tab, please ensure for the Output Device you have selected "Speakers (Noise Blocker Virtual)" and not your system's audio hardware output (like headphones or speakers).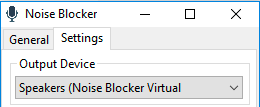 If "Speakers (Noise Blocker Virtual)" does not appear as an option, the drivers may have failed to install.
In this case, you are advised to use an alternative virtual audio routing driver by VB-Audio.